The Union Public Service Commission (UPSC) examination is one of the most prestigious and challenging tests in India. Every year, thousands of aspiring individuals embark on this arduous journey in pursuit of their dreams. Among the countless aspirants, there are a select few who emerge victorious, securing top ranks that etch their names in the annals of history.
In the UPSC 2022 examination, Ishita Kishore soared to the pinnacle of success, securing the coveted first rank. Let us delve into the remarkable journey of Ishita Kishore and explore the qualities that made her a shining star.
| Category | Details |
| --- | --- |
| Real Name | Ishita Kishore |
| Famous for | Becoming UPSC 2022 topper |
| Date of Birth | 1996 |
| Age | 27 Years |
| Birth Place | Begumpet, Hyderabad |
| Nationality | Indian |
| Home Town | Patna, Bihar |
| UPSC Attempt | 3rd Attempt |
| Family | Mother: Not Available |
| | Father: Sanjay Kishore (Wing Commander in Indian Air Force) |
| | Sister: Not Available |
| | Brother: Not Available |
| | Husband: Not Available |
| Religion | Hinduism |
| Marital Status | Unmarried |
| Address | Greater Noida (India Today) |
Ishita Kishore
Biography of Ishita Kishore
Early Life & Family Background
Ishita Kishore was born in 1996 in Begumpet, Hyderabad, Telangana. Her father served as an officer in the Indian Air Force, while her mother was a retired teacher. The family later moved to Delhi, India, where Ishita has spent a significant part of her life. Despite being originally from Patna, Bihar, Ishita considers herself a true Delhiite, having embraced the city as her home.
Educational Journey
Ishita pursued her education in Delhi and attended the prestigious Shri Ram College of Commerce at the University of Delhi. She graduated with a Bachelor's degree in Economics (Hons.), acquiring a strong foundation in the field. Her academic journey provided her with a diverse range of knowledge and skills that would prove valuable in her pursuit of a career in civil services.
Optional Subject of Ishita Kishore
Ishita Kishore emerged as the top scorer in the Union Public Service Commission (UPSC) examination of 2022. She achieved this remarkable feat by selecting political science and international relations as her optional subjects. Ishita holds a Bachelor's degree in Economics (Hons.) from Shri Ram College of Commerce, University of Delhi. Her outstanding performance in the UPSC examination highlights her dedication and competence in the field of civil services.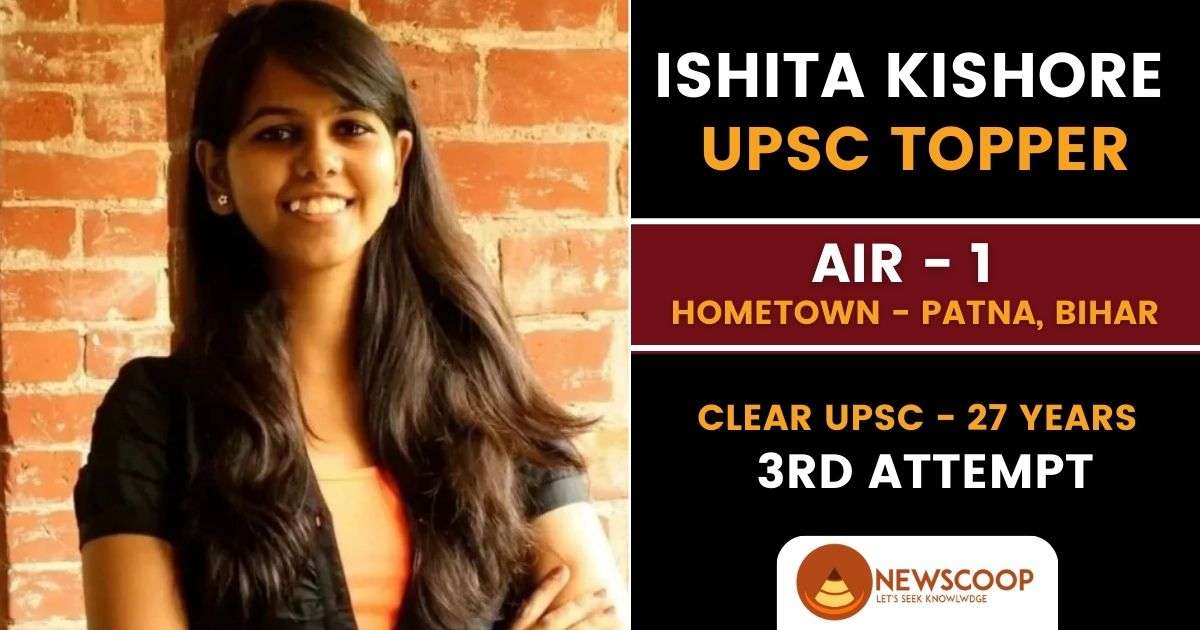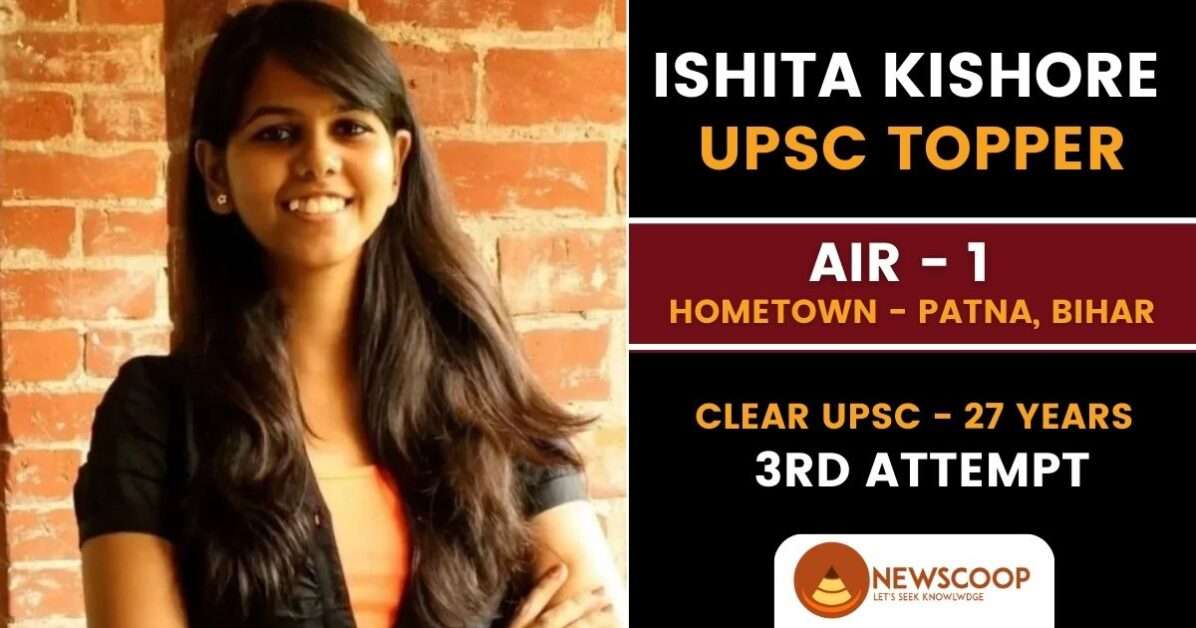 Delhi: A Home Away from Home
Despite her roots in Patna, Bihar, Ishita considers Delhi her true home. Having lived there for a significant period, she has fully embraced the city's vibrant culture and diverse atmosphere. The experiences and exposure gained from residing in Delhi have undoubtedly shaped her worldview and provided her with a deeper understanding of the societal dynamics that she would encounter in her pursuit of a career in civil services.
Ishita Kishore's upbringing in a supportive and academically inclined environment, coupled with her educational journey and connection to Delhi, has played a vital role in shaping her aspirations and accomplishments. Her success in the UPSC examination is a testament to her hard work, determination, and the solid foundation she has built throughout her life.
Certainly! Here's a table showcasing the UPSC toppers from the last five years:
| Year | Name | Total Marks |
| --- | --- | --- |
| 2022 | Shruti Sharma | 1105 |
| 2021 | Shubam Kumar | 1054 |
| 2020 | Pradeep Kumar | 1054 |
| 2019 | Kanishk Kataria | 1121 |
| 2018 | Anudeep Durishetty | 1126 |
Toppers of UPSC Exam
2022 Toppers
| Rank | Name | Roll Number |
| --- | --- | --- |
| 1 | Ishita Kishore | 5809986 |
| 2 | Garima Lohia | 1506175 |
| 3 | Uma Harathin N | 1019872 |
| 4 | Smriti Mishra | 0858695 |
| 5 | Mayur Hazarika | 0906457 |
| 6 | Gahana Navya James | 2409491 |
| 7 | Waseem Ahmad Bhat | 1802522 |
The Career of Ishita Kishore
Ishita Kishore worked as a Risk Analyst at EY in Gurgaon, India.
She specialized in serving North American clients during her time at EY.
Ishita represented India as part of the Indo-China Youth Delegation in 2017.
She had the opportunity to visit prominent cities in China, including Beijing, Hefei, and Shanghai, as part of the delegation.
Ishita actively participated in the Commerce Society at Shri Ram College of Commerce.
She served as Secretary of the Commerce Society from September 2015 to September 2016.
Ishita played a crucial role in organizing the annual 'Bizstreet' fest, a prominent event conducted by the Commerce Society.
UPSC Journey
While excelling in her professional endeavors, Ishita nurtured her aspiration to serve the nation through the civil services. She decided to pursue her dream of becoming a civil servant by appearing for the UPSC examination. However, the path to success in the UPSC Civil Services Examination (CSE) is known to be arduous and demanding.
It requires clearing three stages: the preliminary exam, the mains exam, and the interview round. Ishita's initial attempts at cracking the UPSC exam proved to be challenging, as she encountered difficulties in clearing the preliminary stage in her first two attempts. Despite these setbacks, Ishita's determination remained unwavering.
Attempts to UPSC Civil Services Examination (CSE)
Undeterred by her previous unsuccessful attempts, Ishita dedicated herself to meticulous preparation and self-improvement. She recognized the importance of perseverance and continuous learning. In her third attempt, her hard work paid off when she not only cleared the preliminary stage but also progressed to the mains exam. It was a significant milestone for Ishita, as she had crossed a crucial hurdle in her UPSC journey.
Buoyed by her progress, Ishita intensified her preparations for the mains exam, leaving no stone unturned. She delved deep into a wide array of subjects, ranging from history and geography to economics and current affairs. Her rigorous study routine and comprehensive understanding of diverse topics equipped her with the knowledge and insights necessary to excel in the mains exam.
Ishita's exceptional academic capabilities, coupled with her astute analytical skills and critical thinking abilities, enabled her to tackle the complexity of the examination with confidence and finesse.
Finally, the time arrived for the interview round, the last stage of the UPSC CSE. Ishita's well-rounded personality, rooted in her academic prowess, professional experience, and extracurricular activities, made her a strong candidate. She approached the interview round with a calm and composed demeanor, showcasing her ability to articulate her thoughts effectively and present her viewpoints with clarity. Her genuine passion for public service and her commitment to making a positive impact on society shone through during the interview.
When the final results were announced, it was a moment of triumph for Ishita Kishore. Her perseverance, resilience, and unwavering dedication had paid off, and she secured the coveted top rank in the UPSC 2022 examination. Her success story served as an inspiration to countless aspirants across the nation, proving that with determination, hard work, and a steadfast pursuit of excellence, dreams can indeed be achieved.
Conclusion
In conclusion, Ishita Kishore's remarkable feat of securing the top rank in the UPSC 2022 examination is a testament to her exceptional abilities, dedication, and passion for public service. Her story is an inspiration for aspirants and a reminder that with perseverance and resilience, dreams can be turned into reality. Ishita's success heralds a new chapter in India's governance and administration, where her leadership has the potential to create lasting positive change.
Thank You!
What is the rank of Ishita Kishore in UPSC?
Ishita Kishore secured the top rank in the Union Public Service Commission (UPSC) examination. She became the UPSC topper in the year she appeared for the exam.
What is the age of Ishita Kishore?
Ishita Kishore, the accomplished UPSC topper, is currently 27 years old. With her exceptional achievements and dedication, she has garnered recognition at a young age.